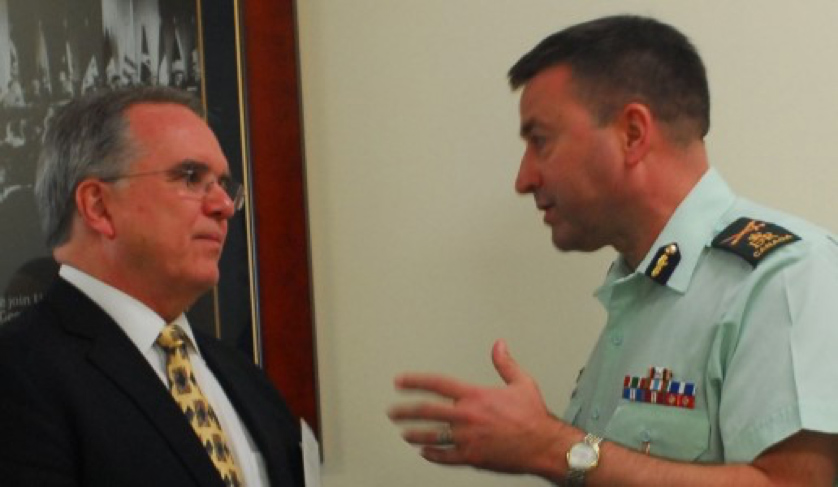 Wallace Keynotes at Canadian Armed Forces Chaplaincy Conference
Cornwall, ON – Dr. James C. (Jim) Wallace of LACUNA Group International gave the keynote address to Canada's Armed Forces chaplains at their three day annual conference in Cornwall, Ontario which ended today.
The professional development conference, "Operation Called to Serve," for Canada's Armed Forces Chaplains hosted by Brigadier General Guy Chapdelaine, was a combined forces training event held at Cornwall's NAV Centre. Over 300 active and reserve duty officers, including the faculty of the Royal Canadian Military College, the Canadian Forces Chaplains School, and the Canadian Forces College, attended the event.
In his keynote speech entitled "Religion in Conflict Zones: A New-Old Challenge for 21st Century Warfare," Wallace focused on the emerging area of religious advisement in battlefield operations which involves dealing with religio-cultural variables on the battlefield with kinetic and peace-keeping operations.
"Religious advisement is an emerging battlefield necessity for commanders as increasingly deployments are being made into areas of the Middle East, Africa and Asia that have a high religious component in the belief systems of the people at large," said Wallace.  The push for developing this skill is not coming from the chaplaincy corps, but from combat commanders who have faced this reality from the Balkans to Afghanistan to Iraq and Syria to Africa – and they have felt un-equipped to deal with it.
For over two years, Wallace has been working with senior leaders and general staff of the CAF – from the Chief of Defense Staff to the Armed Forces Council, and on down – to develop capabilities in this area and to strategize on how this impacts the role and training of military chaplains going forward.
The CAF is also working on incorporating this training capability into their educational and training programs at all levels in the coming years, not just for chaplains. Canada, along with the US, Britain, and Australia, are making the development of "religious advisement" skills a priority for the battlespace.
For more information, contact:
Richelle Wiseman, Senior VP and Senior Partner
richelle@lacunainternational.com
www.lacunainternational.com